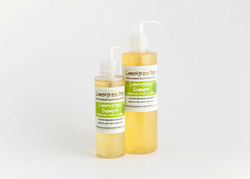 Dog Shampoo Lemongrass
DOG SHAMPOO
Pure lemongrass essential oil, jojoba oil, aloe vera & green tea
This all natural, gentle shampoo is made of mild cleansing agents that don't dry skin. Pure essential oils nourish your best friend's coat leaving it clean and shiny. The hand-made dog shampoo is infused with lemongrass essential oil to provide natural flea control in addition to aromatherapy benefits.
DIRECTIONS:
Get your dogs coat wet, pour on the shampoo a few tablespoons at a time, lathering as you go. Work the shampoo in with your hands. Rinse thoroughly. Unless you want the pet to shake themselves dry (and get everything in the vicinity wet at the same time!), towel them dry.

INGREDIENTS:
Lemongrass essential oil, aloe vera, jojoba oil, green tea extract, peg 80, coca-midopropyl be-tane, sodium chloride, sodium trideceth, shea butter, cocoa butter, cucumber extract, vegetable glycerin, vitamin E, citricide

CAUTION: as with all dog shampoos, Discontinue use if redness or rash appears, immediately flush with water. Do not EAT this Product!