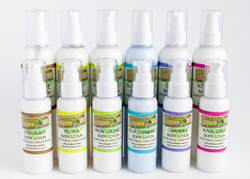 Body Lotion and Creams
Our Body Lotion is made from essential oils combined with a mixture of pure vegetable fruit and flower extracts to help improve the way your skin looks, feels, and acts.  Gentle for all skin, even the most sensitive.
DIRECTIONS:
Apply in the morning, at bedtime, or after a day in the sun.  For best results store in the refrigerator.

CAUTION:
As with all body lotions, discontinue use if redness or rash appears. Immediately flush with water. Don't eat this product!